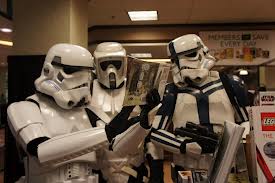 Join us at the library  on Monday, October 7, 2013 for  Star Wars Reads Day!
We will begin at 4:00 pm and go until 7:00pm.
There will be screenings of Lego's Padawan Menace and Empire Strikes Out and the Clone Wars Movie.   Star Wars crafts will be available which will include Cubees.  See different collectibles from the  Star Wars Universe and  we will have snacks too!  You can also win prizes!